Are you someone who is a public speaker or who has to conduct a meeting where you're the main speaker? If answered yes, you'll know how important it is to have a strong stock of words.
Without an apt vocabulary, it is almost impossible to speak with confidence. However, although we know the importance of having a good stock of words, how many of us have it?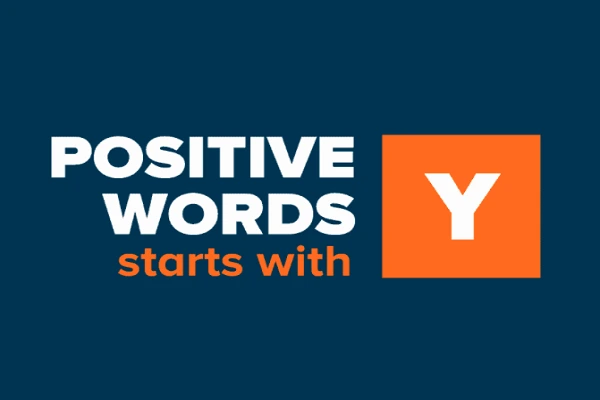 Y is a letter that is not much commonly used in too many words, let alone having positive words. We all know that positive words have an optimistic impact on our lives. It is only by using positive words that you can infuse a good mood not only within yourself but also among others.
Considering the tough times in which we're residing, it is vital to cheer up each other so that we can live positively. If you're searching for a list of positive words, you've reached the right place as we have been offering you a list of words that start with each letter of the English alphabet.
As there are numerous words in the English language, don't you think it is impossible to list all of them in one post?
This is why we've divided each letter and given you not only a list of words but their meanings and how they are used in sentences. Now that you've clicked on the list of positive words with Y, keep reading to know more about them.
Positive Words That Start With Y
| | | | |
| --- | --- | --- | --- |
| Yaba-daba-do | Yare | Yay | Yeah |
| Yearn | Yearning | Yee-haw | Yep |
| Yes | Yield | Yippee | YOLO |
| You bet | Young | Young-At-Heart | Young-blood |
| Young-gun | Young-looking | Younker | Youth |
| Youthful | Youthfulness | Yum | Yummy |
| Yummylicious | Yummy-mummy | Yup | Yuppie |
List of Words that start with Y
In modern English alphabets, Y is the 25th letter. Y originally appeared with the Greeks. If you consider the Roman language, it didn't include this sound and hence when they incorporate it into Latin, it is usually used with foreign words.
There are times when Y is considered a vowel. Usually, children learn vowels as A, E, I, O U but Y is considered a vowel when.
The word has no other vowel (like cry).
Y is the end of the syllable or word (like in bicycle).
Y is placed at the middle of the syllable (like system).
Examples of Y when used as a vowel include gym, spy, fly, lynch, dry, and why.
Y is a rarely used letter that appears in only 2% of texts and if you check the dictionary, there are even fewer letters found in dictionaries.
Positive Words that begin with Y
Yahoo
Yarn
Yay
Yea
Yeah
Yearn
Yearning
Yearningly
Yen
Yes
Yield
Yip
Yo
Yodel
Yoga
Young
Young-gun
Yours
Yourself
Youth
Youthful
Youthfully
Yummiest
Yummy
Yup.
Descriptive Words that begin with Y
Below is a list of the 25 words which are utilized for describing things that begin with Y.
Yammer
Yankee
Yawning
Year
Yearling
Yearlong
Yearly
Yearn
Yearnful
Yearning
Yellow
Yellower
Yelping
Yesterday
Yesterdays
Yiddish
Yielding
Yon
Yonder
Young
Youngish
Yours
Yttrias
Yugoslavian
Yuletide.
Adjectives that begin with Y
What are adjectives? Adjectives are words that are used for modifying nouns and pronouns. They are used to offer a description. Below mentioned are 25 adjectives that begin with Y.
Yappy
Yawning
Year-long
Yearly
Yearning
Yeasty
Yellow-bellied
Yellowed
Yellowish
Yelping
Yester
Yew
Yiddish
Yieldable
Yielding
Yodeling
Yon
Yonder
Younger
Youngish
Your
Yucky
Yugoslav
Yugoslavian
Yuletide.
Words that start with Y and that are used to describe someone
Below mentioned are 25 words that start with U and which are utilized for describing someone.
Yauld
Yeasty
Yellow
Yellower
Yelping
Yemeni
Yemenite
Yeoman
Yeomanly
Yes-man
Yiddish
Yielding
Yieldy
Yogic
Yokozuna
Yond
Young
Youngish
Youngling
Yours
Youthful
Yucky
Yugoslavian
Yummy
Yuppie
Nouns that start with Y
What is a noun? A noun is a naming word, a place or person or thing, or idea. Below are 25 nouns that start with Y.
Yacht
Yachting
Yachtsman
Yadda
Yak
Yang
Yankee
Yard
Yardstick
Yarn
Yaw
Y-axis
Year
Yearbook
Yellowfin
Yelp
Yen
Yeoman
Yesteryear
Yeti
Yoga
Yogi
Yogurt
Yoke
Yo-yo.
Verbs that start with Y
A verb is a word that is a doing word and that expresses state, action, or relation between things. Below are 25 doing words that start with Y.
Yacht
Yachting
Yammer
Yang
Yank
Yap
Yaw
Yawed
Yawn
Yawp
Yearn
Yearned
Yell
Yelled
Yellow
Yellowed
Yellowing
Yelp
Yield
Yielded
Yields
Yodel
Yodeling
Yoke
Yowl.
Example Sentences with adjectives that start with Y
The yawning, dark cave on the cliff looked ominous.
That puppy sure was yappy.
The yellowish tint in those curtains reminds me of a summer's day.
We should all take a yearly vacation.
I'd like to take a year-long vacation from my job.
I love the yeasty taste of sourdough bread.
My Jewish friend is starting Yiddish lessons.
The sheriff wanted to catch the yellow-bellied thief.
This year's high-yielding crop will give us a powerful surplus.
Please pluck that yonder lavender for my bouquet.
The young puppy was learning not to be yappy.
The youngish actor still had a lot to learn about the craft.
My mom maintains such a youthful glow.
Is that your script?
That wholewheat sandwich was yucky.
My mom maintains such a youthful glow.
That PB&J sandwich was yummy.
My new roommate is Yugoslavian.
Yippie! So now that you have found a list of the positive words that start with Y, what are you waiting for? Start using them while speaking so that you can show them how well you've stocked up on your vocabulary.
Difficulties and challenges in life will always come and go but we have to stay confident and positive. Attitude is something that is within our control and this can bring about a huge difference in our lives.
So, make sure you use these positive words which start with Y, and get going with creating some good vibes.
Positive thinking benefits in tough moments and hence you shouldn't miss the daily opportunities where you can create a positive impact on others. Speak positively with others and try to bring a smile to their faces. Let us know which are the positive words with Y that are your favorite.