There was a time when you had to earnestly remember the birthday of your friends. You either had to write them down in your diary or memorize them in such a manner that you don't miss anyone's special day.
Once you remember the day, you immediately used to pick up a greeting card, scribble down some words in it in your own handwriting and give it to the person intended.
Thank You for Birthday Wishes to Friends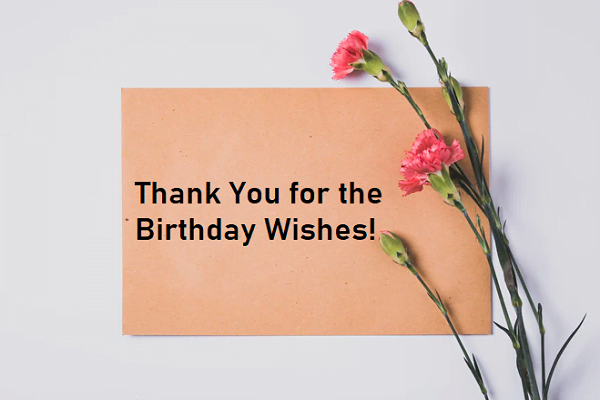 Gone are those days when you had to use your brain for these things as now, we are dwelling in the era of technology.
If you're already on Facebook, you'll know that Facebook sends you a notification on your friend's birthday and even your calendar app can instantly remind you of a birthday wish.
On the part of the birthday boy, the same technology thankfully helps him in thanking each and everyone who wishes him on his birthday.
After celebrating your birthday in a special way, all you have to do is to type out 'thank you everyone for the birthday wishes, your wishes made my day even more special'. All you have to do is broadcast the message via your chosen social media, whether Instagram or Facebook or Whatsapp.
Yes, you could certainly do that but why wouldn't you put in a little more effort? We will help you with a list of the most unique replies to birthday wishes that are of different range, from styles – some are silly, some are sincere and some are comforting. Check out the list given below.
Straightforward replies to your Birthday wishes
Here is a checklist of the few straightforward and simple birthday wish replies that you can give to all those who wished you on your birthday and made the day special.
I thank each and everyone for the birthday wishes. You guys really made my day.
Thanks a ton for the birthday wishes. You made the special day even better.
Thanks, and love to all and sundry who wished me on my Happy Birthday. It was indeed a happy one. Thanks again!
My team is undoubtedly the best! Thanks to all of you for pouring on those birthday wishes.
To each and everyone who wished me on my birthday yesterday: Thank You! I indeed had a great day and hearing the wishes from all of you was the best part of the day.
You guys rock! Thanks a ton for all those lovely and pure birthday wishes!
To all who have posted on my birthday and remembered me on my special day – Thank you so much for thinking of me.
Thanks a ton for taking out time from your daily schedule and posting such nice words on my birthday. I simply treasured these memories and I loved hearing from each one of you.
It was really nice and special to hear from so many people on my birthday yesterday. Thanks for making me feel so special on my birthday.
Oh my God, I was simply surprised to see so many wishes on my Facebook wall yesterday. My wall was flooded with good words. You guys made me feel like a celebrity.
I can't tell you people how much I enjoyed hearing from so many friends.
Funny replies to your Birthday wishes
One of the best ways of thanking people is by giving them a little chuckle. If you're someone humorous, here are few of the funny messages that you should opt for.
My thanks to all who wished me good luck on my birthday yesterday. The rest of you who didn't wish are for dead to me!
Thanks a lot guys for the birthday wishes. I'm wondering whether any one of you would remember by birthday without the Facebook reminder!
For all those who wished me on my birthday yesterday – Thanks a lot! For everyone else, I am very soon going to unfriend you!
As it is I was celebrating the fact that I am turning a year older, hearing such nice things on this special day made by day a little better.
Thank you all for checking out your Facebook notification and realizing that you should type a 'Happy Birthday' message to me!
My gratitude and thanks to all those who congratulated me on my birthday. And for all those who didn't, your time is coming soon.
To those who posted such nice words on my Facebook wall, thanks a lot for making me look more famous than what I actually am.
Thanks for the beautiful birthday wishes everyone. It gave me a gentle and happy reminder that I am gradually moving faster towards my grave.
Thanks a lot for the birthday wishes. You made the sucky feeling of growing older a little bit more tolerable.
Thanks for the Happy Birthday wishes everyone! I appreciate even those who teased me to becoming older.
Sweet replies to your Birthday wishes
Finally, you ought to be sweet when your friends wish you on your birthday. The message are the touchy types.
Thanks for all the birthday wishes and the love. Love you all!
Thanks for the really kind birthday wishes. The best birthday gift reminded me of how good and caring friends I have.
Thanks a lot to everyone who remembered me on my Happy Birthday. This meant a lot to me.
Thank you for making me feel like a celebrity on my birthday. Every single wish was special to me and it meant a lot to me.
Thank you so much for the birthday wishes. Hearing from many family members and friends made me feel grateful for the best people in my life.
My birthday went awesome and I feel blessed to have such caring family and friends.
Thanks for the sweetest birthday wishes everyone of you. They make me feel extremely special and valued.
You made my day extra special and thank you for the beautiful Happy Birthday wishes.
Gosh, I can't believe how special you all made me feel. Thanks a lot for your birthday wishes.
Therefore, now that you're wondering about the ways in which you should reply to your birthday wishes, you have several choices to watch out for.