Being able to write a thank you note is a particular type of skill which many of us have but we may have not sharpened it too often. This is certainly one of those things which is definitely required in life but at the same time it is also overlooked.
How to Write the Perfect Thank You Letter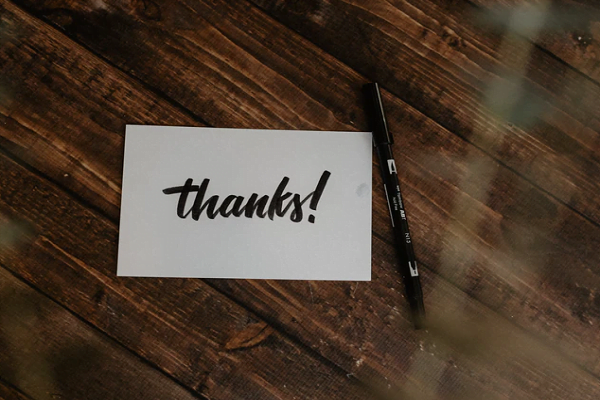 Irrespective of whether you know how to write a thank you note like a pro or you're looking forward to sharpening your writing skills, you've clicked on the right post. In this post, we have tried to cover almost anything and everything that you may need to know on writing a thank you note.
A hand-written thank you note is always more special than a one that you type. It conveys your feelings to your family and friends and they know that you've spent your precious time in sitting down and writing them. As we know that the hardest part of writing a thank you note is starting to write it.
Where do I begin? This is the main doubt among people who sit to write a thank you note. Whatever I write, will it sound forced or honest? Will I be able to write enough to mean what I feel? Read on to know more on this.
The rule of WHO, WHAT and WHEN
WHO
Try to make a list of all the people whom you require thanking. If the thank you is due to a party that they gave in your honor, make sure you jot down the names of all those who sent you a gift, whether by hand or by mail or by person.
WHAT
Would you like to know the basic template of a thank you note and few phrases with which you can get started?
Greeting – Always make sure that you're utilizing the right spelling and form of the person's name and anyone else who is also listed in the thank you note.
Express your gratitude: The two biggest words to start your note are Thank You. Then you can continue with the reason for thanking that person.
Add details: Tell them how you plan to display the gift. This will show them you're appreciative and all your thoughts went into writing the note.
Look ahead: While writing the letter, write when you're next going to see them or just let them know that you're thinking of them.
Again say thanks: Add all details so that you can thank them in a different manner or restate the thanks.
Complete the letter with your regards: The word 'sincerely' is a standby but for the relationships that are closer, you may choose the words, 'With love', or 'Many thanks' or 'Yours's Truly'.
WHEN
As long as sending thank you notes are concerned, be quick about that. For events like baby showers and parties, a good thumb rule is to send the cards within a month after the event. In case you're late to send the note, mention a short apology.
Examples of Words that you should use for Thank You Notes
Who doesn't treasure the feeling of being appreciated? This is the main reason why we need to send thank you notes to people who we love and who we wish to show our gratitude to. Regardless of whether the thank you is for a nice wedding gift or for helping you in a job interview, it should be written in a kind manner. Keep reading to know how to write one.
3 Steps to writing a Thank You note
No, it is nothing difficult or tiring to write down a thank you note. The key lies in knowing the formula that usually works in any occasion.
Express the gratitude that you feel and name the specific gift for which you're taking this noble action.
Write down one sentence or two about how the respective gift benefitted you.
Conclude by mentioning the next time when you think you can meet the person, you're sending the letter to.
Using quotes for writing Thank You notes
Though this isn't a necessity but there are times when you think that a perfectly chosen quote would add that nice touch to what you're writing. There are several apt quotes that help you personalize your 'thank you' card. You can also use the online dictionary to know the wide variety of quotes that you should choose from.
Email vs. handwritten note
There's no doubt about the fact that handwritten 'thank you' notes are always the idealistic options but presently as we live in a digital era, it is okay to accept 'thank you' notes via email too. For instance, if you'd like to send an appreciation email post a job interview, this is better done through an email as corporate people are always more accessible through mails.
For creating that perfect 'thank you' note template, you have to follow up few templates so as to get a clear idea on creating an eye-catching 'thank you' note.
Which words should be included in a Thank You Note?
There is a long list of thoughtful sentences and words that you can use for showing your gratitude while writing thank you notes. Here are few examples:
We are extremely grateful that you were a part of our wedding occasion. We are so touched with the wonderful gift that you gave us.
We are immensely pleased to have joined the first birthday of Kiam. He just loved his train set as this is his first-ever game set.
Thanks a lot for celebrating your retirement along with us. We both can't wait to meet each other at the golf course once again.
Happy Holidays! I thank you from the bottom of my heart for attending our family's Christmas party. We are aware that this is certainly the most hectic times of the year.
Guess what! I am still smiling! I hope you and Darcy can never forget the experience that we both had in sharing our anniversary and special day with you.
So, if you've been struggling to write 'thank you' notes for a long time, use this article as a guide to write a perfect one.